If you have missing teeth and are looking into treatment options, you've probably heard of dental implants. As specialists in dental implant services, one of the most common questions we get is about how long dental implants will last.
Modern implant technology has come a long way, and we can help you achieve a strong, healthy smile for years to come. Keep reading to learn more about the longevity of dental implants and how to make them a lifelong solution.
What are dental implants?
A dental implant is a small metal post that is secured to the jawbone. It serves as a stable replacement for the root of a natural tooth. The implant acts as an anchor for future tooth replacements such as crowns, bridges, and dentures. These replacements are attached using an abutment, which firmly connects your new tooth to the implant.
Implants not only provide an aesthetically pleasing solution for missing teeth, but they also help to strengthen the jawbone and prevent bone loss as well as other oral health problems.
How long do dental implants last?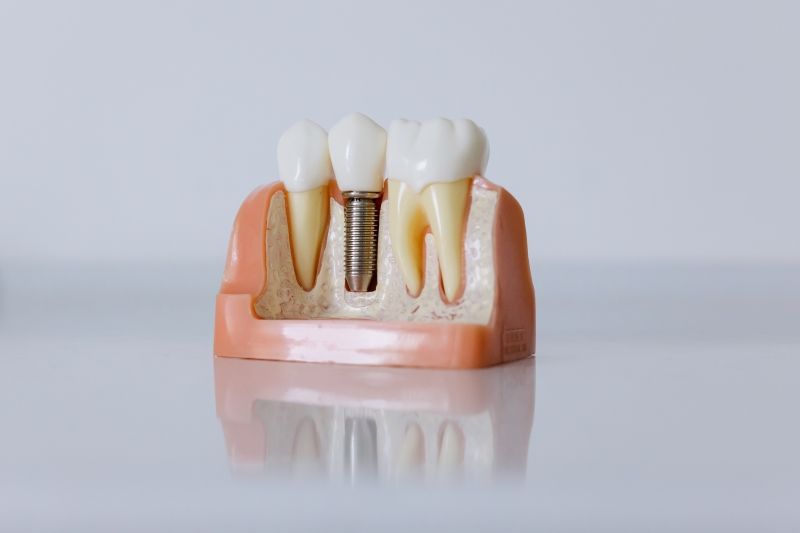 Dental implants are a long-term treatment option for people with missing teeth. The screw itself is exceptionally secure. With proper care and maintenance, a high-quality implant can last your entire life.
Even modern crowns and bridges can last for several decades. But if you require a new crown in the future, you most likely won't need to have the implant itself removed or replaced.
Factors that impact the longevity of dental implants
When a qualified dental implant specialist performs the surgery and when the highest quality materials and technologies are utilized, implants can be a permanent solution to missing or severely damaged teeth. But dental implants don't always last forever, and there are a number of factors that can impact their longevity.
Materials
Implants can be made from a variety of materials, and they're not all created equally. The strongest and most durable material is titanium or titanium alloy. Titanium is lightweight, corrosion-resistant, biocompatible, and exceptionally strong.
With proper care, titanium dental implants can easily last a lifetime. Zirconia and ceramic implants are less durable alternatives but may be used in cases of metal allergies or other concerns.
Provider
When you're getting permanent restorative work done, it's important you find a dentist who really knows what they're doing. At Smart Arches, we're not dentists who perform implant surgery. We're dental implant specialists and experienced oral surgeons. Our acquired skills and experience not only help us give you better results, but also a more pleasant experience.
Dental hygiene
Taking care of your implants with daily oral-hygiene habits is just as important as caring for your natural teeth.
Brushing twice a day and flossing once a day significantly reduces your risk of plaque accumulation, which can lead to gum disease and the deterioration of your gums and jawbone. Plaque can build up around an implant, just as it can around any other tooth, and may eventually lead to implant failure.
Health and lifestyle
In addition to your oral hygiene, your overall health and lifestyle habits can impact the longevity of your dental implants. Smoking, teeth grinding, and jaw clenching are all important to avoid in order to maintain your implants, not to mention your overall health.
Certain medical conditions, including diabetes and cardiovascular disorders, can also affect the durability of your implants. Some medications, such as immunosuppressants or radiation therapy, may also have an impact.
How to make your dental implants last a lifetime

There are several ways to increase the longevity of your dental implants. With proper, ongoing dental care, your dental implant can be a lifelong solution.
Here are a few tips to make your dental implants last:
Maintain good oral hygiene and gum health by brushing, flossing, and rinsing with a gentle mouthwash daily.
Schedule professional dental cleanings and exams every six months.
Avoid smoking.
Limit your intake of inflammatory substances such as alcohol, as this can impact the health and strength of your gums.
Eat a healthy, nutrient-rich diet.
Our dental implant experts can provide you with a high-quality, long-lasting restoration!

At Smart Arches, we specialize in providing dental implants that are made to last. We go above and beyond to make sure that you get the treatment you need while prioritizing your comfort every step of the way.
No matter your situation or concerns, we're passionate about helping you achieve a beautiful smile that supports your health now and in the future.
Call one of our locations or contact us online today to schedule a FREE dental implant consultation!