Implants are the most advanced and long-lasting restorative dental treatment available to patients today. They offer a more effective, convenient, and permanent alternative to dentures for missing teeth and other serious dental concerns.
At Smart Arches, our incredible dental implant specialists are skilled oral surgeons who focus exclusively on performing dental implant procedures. We're here to answer the most common questions about dental implants we see, dispel some common myths, and help you determine if dental implants are right for you.
What are dental implants?
A dental implant is a small, screw-like post that's surgically embedded into the gums and jawbone in order to provide support for a tooth replacement such as a custom crown or bridge. Made from biocompatible metal (usually titanium) a secured implant goes through a process called osseointegration, during which the material fuses with the jawbone, allowing it to function like a natural tooth root.
What problems do dental implants treat?
The dental implant procedure is a restorative treatment for patients with missing, damaged, or severely decayed teeth. In addition to improving aesthetics, they also offer a number of practical, long-term health benefits, such as:
Correcting poor bite function
Preventing bone loss
Improving overall quality of life
Restoring the ability to chew and speak
Preventing surrounding teeth from shifting
Reducing the risk of tooth decay and gum disease
Who's a good candidate for dental implants?
Fortunately, the majority of people with missing teeth are good candidates for dental implant surgery. However, there are a few factors that may impact your eligibility, including your age, certain chronic health conditions, and smoking.
Before scheduling your surgery, you'll visit our office for a dental implant consultation, where we'll review your dental history and evaluate your smile to determine if you're a good candidate for implants.
How much do dental implants cost?
The cost of dental implants can vary substantially. While there is an upfront cost – the average total cost per tooth in the US falls somewhere between $3,000 and $4,500 – dental implants can last a lifetime. This can save you money on expensive procedures in the future. Depending on your dental insurance plan, you may also only be responsible for covering a small portion of your treatment. With Smart Arches, most patients save $15K – $25K, or 33-40% off dental implant treatment costs.
How do I care for dental implants?
Unlike other dental restorations, dental implants don't require any specialized care. In fact, you can maintain your dental implants just as you would your real teeth! Simply keep up with daily at-home care by brushing and flossing and visit your general dentist every six months for a professional exam and cleaning.
How long do dental implants last?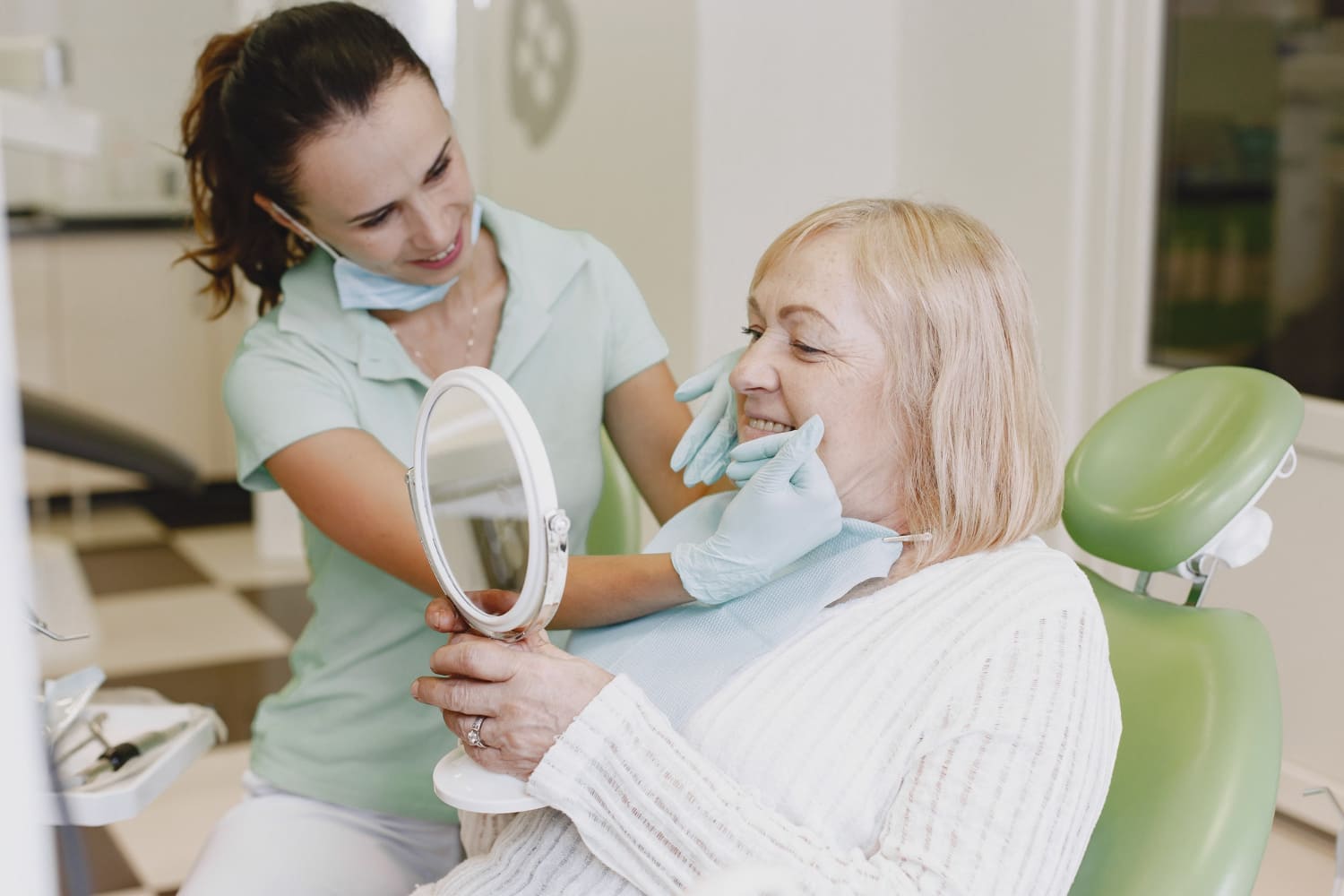 With routine, generalized care, your dental implant can last your entire life. While you may need to have your crown or bridge replaced, they should still last for several decades and you likely won't have to redo the implant itself.
What are All-on-4 dental implants?
Ideal for patients missing all or most of their teeth, All-on-4 dental implants can replace one or both arches without having to place each implant individually. With the All-on-4 method, your oral surgeon will strategically place between four to six implants before securing a custom, permanent bridge or dental plate.
Do dental implants look natural?
An experienced surgeon can ensure your dental implants will look completely natural. Once they're secured, you'll be fitted with a custom-made restoration. Your crown or bridge will be made to perfectly match the shape and color of your real teeth, making them indistinguishable from the rest of your smile.
What is dental implant surgery like?
The number of implants required, their locations, the type of sedation used, and your individual smile goals can all affect what you can expect from the dental implant process. Most procedures are performed on an outpatient basis and only take 1-2 hours if you only need one or two implants. The process is much quicker, easier, and more convenient than most patients anticipate.
Is it painful to get dental implants?
Many patients worry that getting dental implants will hurt. These concerns can be especially troubling if you suffer from dental anxiety or fear. But rest assured, modern dental implant surgery is not painful. We offer a variety of highly effective sedation options at Smart Arches, including IV sedation and general anesthesia.
What is the recovery process like?
The vast majority of patients experience a smooth recovery from dental implant surgery. Minor discomfort, swelling, and sensitivity should subside within the first couple of days following the procedure. Your implant site should be completely healed within a week or two, and you can help guide the process along by carefully following our aftercare guidelines.
Have more questions about dental implants?
At Smart Arches, we work with patients from all walks of life to provide life-changing dental implants. As specialists in dental implant treatment, this is what we do all day, every day. If you have additional questions about dental implants and whether they're the right treatment for you, we're here to offer the expertise you need!
Contact us today to set up a FREE dental implant consultation to get all your questions answered!